Manual invoicing still alive!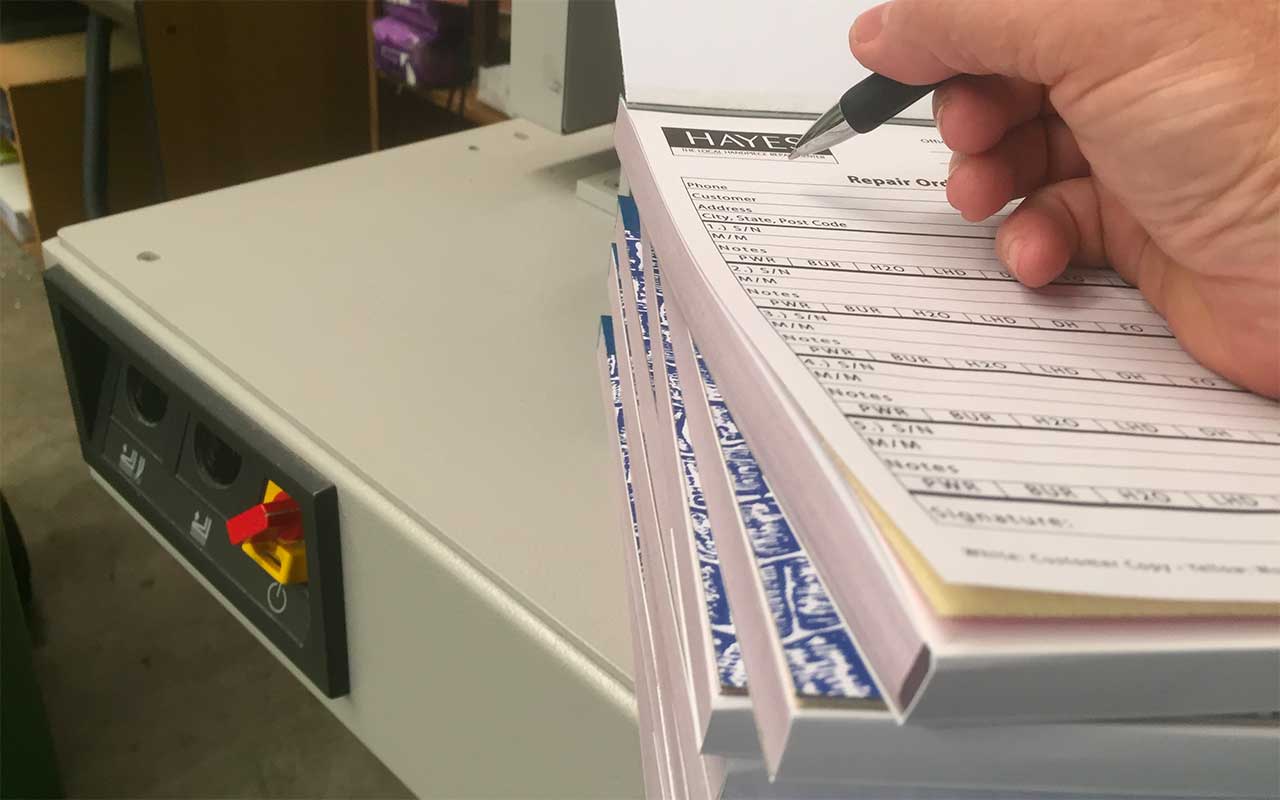 At Simply Print, we're very proud to be the exclusive printer of invoice, order and docket books in the Noosa area, offering an extraordinary service that sets us apart from the rest. Yes, that's right! Simply Print is the sole printing company in the Noosa area with the presses and capability to produce invoice and order books in-house. While other printers may attempt to replicate our services, they reluctantly resort to outsourcing, further delaying the wait for delivery. A typical turn-around time of a few laborious weeks is what other printers subject their customers to, leaving them in a state of anxious anticipation.
Our customers can always expect prompt delivery of their books, and we commit ourselves to completing their invoice and order book jobs in a fraction of the time that other companies take when sub-contracting to interstate printers. We take immense pride in boasting that, from the moment the proof approval is granted, we can adeptly turn around jobs in as little as three working days. A mere trio of workdays, and your treasured books will be in your hands, ready to make a resounding impression.
The beauty of our services does not end with swift invoice book printing; it extends to encompass all your numbering and perforating requirements, as well. Are you in dire need of custom raffle tickets? Or do you seek promotional items that bear a unique identity? Fear not! We are the artisans you seek, equipped with the expertise and advanced tools to cater to your specific needs. We thrive on the challenge of providing you with impeccably numbered and perforated items, be it mail-out brochures that require an individualized touch for a thrilling competition, or leaflets that demand an easily detachable, perforated section.
As technology propels us into an era of digital accounting and financial management programs like Quicken Online and MYOB, one might expect the demand for traditional invoice book printing to wane. However, the old-school charm of invoice books remains a steadfast preference for many of our clients. Surprisingly, there is a legion of individuals who, in a harmonious blend of traditional and contemporary practices, resort to handwritten invoices, complementing their online accounting software. For us, the priority lies in ensuring you receive your payment on the spot. We firmly believe that nothing rivals the effectiveness of delivering an invoice directly to your client's hands on the spot.
While the unparalleled quality of our invoice book printing is a testament to our expertise, it is just the tip of the iceberg when it comes to our numbering and perforating prowess. Our capabilities extend far beyond, propelled by over four decades of valuable industry knowledge that has honed our craft to perfection. We possess the state-of-the-art equipment that breathes life into your imaginative concepts, turning them into tangible reality.
Do you find yourself captivated by the prospect of availing our services for your next numbering or perforating endeavor? Then hesitate no more! Reach out to us at your earliest convenience, and we will gladly provide you with a quote tailored to your unique needs. Experience the magic of a printing establishment that combines years of expertise with cutting-edge technology to deliver unparalleled results, exceeding your every expectation.